Welch Cottage Unit 1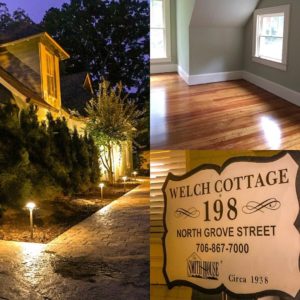 Welch Cottage is located at 198 North Grove Street. Newly renovated 4 bedroom house. 2 Master Suites on main and 2 Queen bedrooms upstairs. Two-night minimum rental. A cancellation fee applies. The Welch King Suite Unit 2 is not included in the rental of the Welch House Unit. Click here for more pictures
Welch Cottage King Suite Unit 2
​
Welch Cottage king Suite. Part of the Welch Cottage but rented as a separate unit. 1 King bed, small sitting area, full bath, and private parking. 1-night minimum. A cancellation fee applies. Located at 198 North Grove Street-walking distance to the historic town square. Click here for more pictures
The Thomas Cottage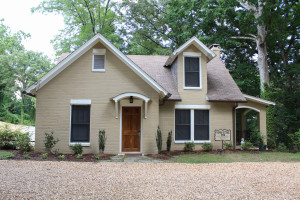 Located at 174 North Grove Street. Newly renovated 3 bedrooms house. 1 Master Suite on main and 2 Queen bedrooms upstairs. Two night minimum rental . Cancellation fee applies
If you are an tax exempt entity and booking a hotel room, please call front desk at 706-725-8148. If you book online the tax will be added and cannot be refunded. Thank you
Romantic Getaway
We had a wonderful visit to The Smith House! The owners were very welcoming and gave us some great tips for what to do in town. We stayed in a 4th floor room which was very clean, comfortable and quiet. The decor is light, airy, rustic and very homey! We were walking distance to everything in town. Loved that there was a Starbucks in walking distance as well. Took a walk in the morning and brought coffee back to sip while rocking on the porch in the beautiful crisp morning air. We will definitely be back for a visit and have already recommended to friends!
Great stay at the hotel
My wife and I stayed here for a couple nights of visiting the local wineries and we had a great time. It was an easy 90 minute drive from ATL and there was plenty of free parking right next to the hotel. Check-in was super easy and the lady working was extremely friendly and showed us to our room. We were upstairs in a king sized bedroom and it was very clean with nice amenities in the bathroom and included a Keurig coffee maker. The TV was nice and the bathroom looked like it was recently upgraded. We heard a lot about the restaurant but didnt get a chance to eat there. The location is great, there is a Starbucks right next door and everything on the square is easily walk-able.