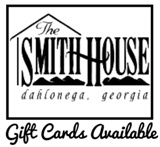 Phone number change
To contact us please dial 706-725-8148
Welcome to The Smith House!
The Smith House, located in the quaint Appalachian town of Dahlonega, Georgia, has had its doors opened to  visitors since 1899.  One thing's for sure, there's no shortage of Southern Hospitality around here.  Come sit back  and enjoy our home-cooked country cooking in the family-style dining area and you'll see what we're talking  about.  Or come kick back for a weekend in one of our comfortable yet luxurious rooms and enjoy the sights, sounds, and smells of Dahlonega.  Take a hike.  Ride a bike.  Take a vineyard tour.  Shop around in the unique shops of our quaint town, which is located just one block from our doorstep.  Come see what our little town has to offer.  We're sure you'll have a great time!
The Smith House Mine Shaft
The mine shaft was discovered when the current owners were doing a major renovation project. During construction of the old dining room a new addition, workers found a large size round hold and shaft under a concrete slab they were removing. After removing the debris from the shaft, they discovered discarded contents of the house from days past. Cleaning out the shaft many feet-to their surprise they found the famous gold vein in the side wall of the shaft. The original shaft is for the public to view in the basement of the house.
Interested in booking a room?
---