Welcome to The Smith House!
The Smith House, located in the quaint Appalachian town of Dahlonega, Georgia, has had it's doors opened to  visitors since 1899.  One things for sure, there's no shortage of Southern Hospitality around here.  Come sit back  and enjoy our home-cooked country cooking in the family-style dining area and you'll see what we're talking  about.  Or come kick back for a weekend in one of our comfortable yet luxurious rooms and enjoy the sights, sounds, and smells of Dahlonega.  Take a hike.  Ride a bike.  Take a vineyard tour.  Shop around in the unique shops of our quaint town, which is located just one block from our doorstep.  Come see what our little town has to offer.  We're sure you'll have a great time!

Platters piled high with classic southern favorites like Smith House style fried chicken, sweet baked ham and a dozen or so different fresh, steamed vegetables; homemade yeast rolls and corn muffins that melt in your mouth.

The Smith House is famous for more than serving great family style meals. The Inn has cozy guest rooms for folks planning to stay the night in Dahlonega. The Smith House is even registered with Historic Hotels of America.

We have been hosting weddings, parties, meetings and family gatherings for years. With lodging, dining, and event rooms all within close proximity, your event can be an elegant and comfortable one for you and your guests.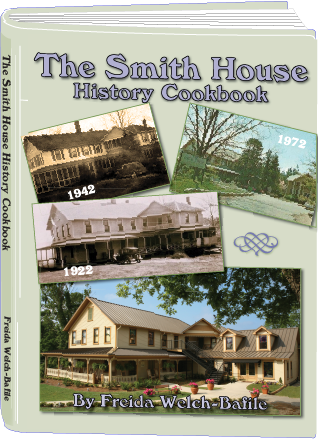 New Smith House History Cookbook!
Take your favorite recipes home!  The Smith House History Cookbook, now available, will provide you with a Smith House taste of southern cooking right in your home.  Along with short stories for each recipe, this cooking guide will provide the reader with historical background of Lumpkin County and the North Georgia Mountains.  To order your copy, simple click HERE and fill out the form!
84 South Chestatee Street                                    Dahlonega, GA 30533
Email:  info@smithhouse.com